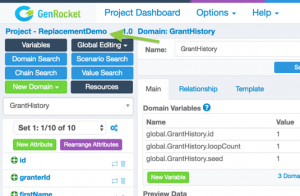 Assign Project Version Variable Sets, Admin Reporting, and Usability Improvements
We received some feedback from our customers and partners last week for a few features and general improvements to our test data generation system. Our team was able to turn these requests around in a few short days.
Assign Project Version Variable Sets to Scenarios
One of our partners was working on a project that required them to sue multiple variable sets on the same test data generation Scenarios. To simplify this process, we added the ability to assign different variable sets to Scenarios on the Project Version Variable window. To use this feature, do the following:


Specify the Variables set you want to use in the Project Version Variable Set Dropdown
Click the "Assign to Scenarios" button
Select the Scenarios you want to assign the variable set to
Click "Save"
When you download the Scenarios, they will have the correct variable set associated with them.
Admin User Reporting
One of our clients needed more information on their team's usage of GenRocket. We have added a reporting dashboard that allows Admins to view their team's activity. To see this report, open the top right dropdown and you will see a new link called Users Report.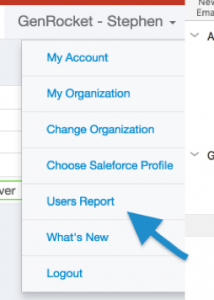 This link will take you to a dashboard where you can see last login time, number of created Domains, number of created Scenarios, and number of completed Scenario runs within the timeframe you specify.
Usability Improvements
Based on customer request, we made two usability improvements to GenRocket:
1.Project Version Link
When you are on a Domain or Scenario Dashboard you can now click on the Project's name in the top left to navigate to the Project Dashboard with that Project Version selected.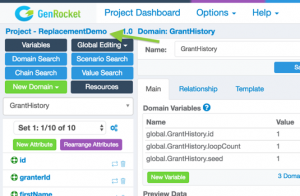 2.Highlighted Attribute Names
To make it easier to know which Attribute you are working with, you will now see that Attribute highlighted in Attribute list. This makes it easier to move around your Attributes and customize the test data you want to generate.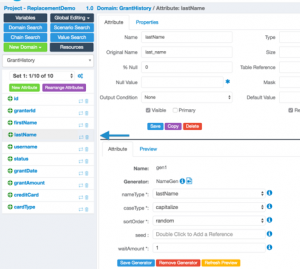 Have a Feature Request?
Do you have a feature request? Need a new test data generator? Let us know on the Feature Request Forum or email us at support@genrocket.com.