Solving the ETL / Big Data Testing Challenge
by admin on May 13, 2020
Big Data has placed digital information at the center of how organizations make business decisions and continuously improve the customer experience. Massive volumes of structured and unstructured data are collected in data lakes and combined with application data to update centralized data warehouses through an Extract, Transform, Load (ETL) process.
To meet the difficult software testing and data validation challenge, GenRocket has joined forces with QuerySurge to provide a solution that combines Test Data Automation and Data Validation to enable fast, easy and comprehensive testing of big data applications.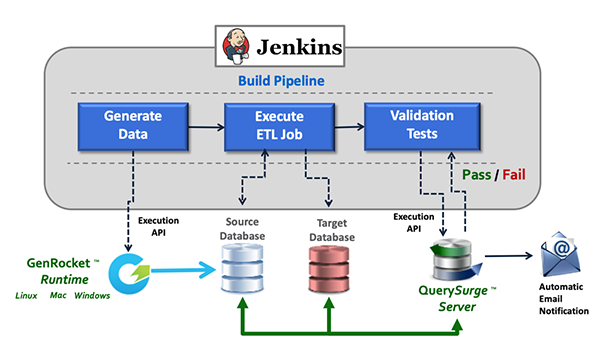 This new and exciting ETL/Big Data testing solution checks all the boxes:
Validate the critical business rules and transformation logic being applied to the data
Test large volumes of data in a period of time that will not delay the release schedule
Pinpoint data defects and link them back to the specification or data model
Execute testing as part of a Continuous Integration / Continuous Delivery pipeline
Visit our new ETL / Big Data Resource Page
We created a resource page to explain this flexible, integrated and scalable solution. It contains a recorded webinar in which GenRocket and QuerySurge experts solve a real-world big data testing challenge in a live demonstration. This resource page also contains case studies that feature GenRocket solutions for testing data lakes and applications for artificial intelligence and machine learning. Click the link below to visit the page and learn more.