How to Provision Test Data for Continuous Testing
by admin on Mar 19, 2019
Did you know that 85% of QA organizations are implementing test automation, but only 4% have fully automated 90% or more of their tests? The friction encountered during the deployment of test automation is the outdated approach for provisioning test data. In this article we explore the idea of a fully integrated test automaton environment.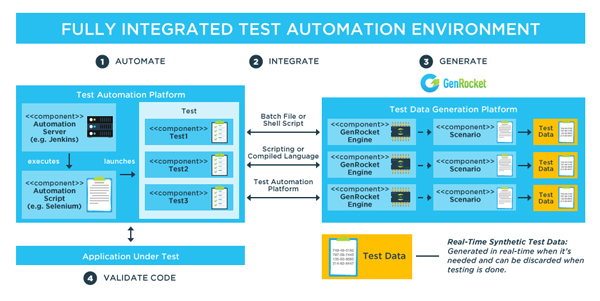 GenRocket's Test Data Generation (TDG) platform enables a fully integrated test automation environment that seamlessly integrates with CI/CD pipelines (e.g., Jenkins) and test automation tools (e.g., Selenium).
BEST PRACTICES
6 Essential Criteria for Comparing the Value of Test Data
Even the most experienced QA managers need guidance for deploying TDG across their organization. Our goal is the same as their goal: Introduce GenRocket one application at a time in a way that maximizes the impact on the quality and efficiency of test operations. So we documented the most impactful use cases for TDG to help our customers follow the most effective path for TDG deployment. They are outlined in the checklist below: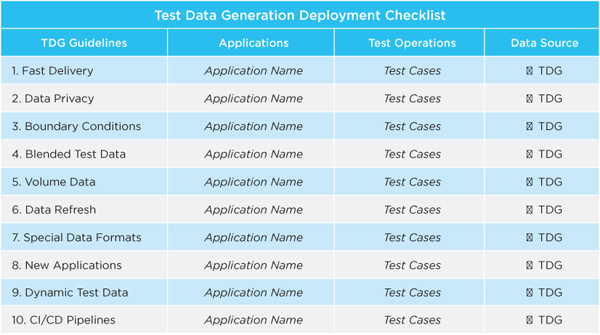 Use this guide to deploy TDG methodically, one application at a time, to expand the percentage of real-time synthetic test data to represent 90% or more of all test data. This will maximize the efficiencies realized in provisioning speed, cost-effectiveness, data quality and overall simplicity of user operations.
SOLUTION SPOTLIGHT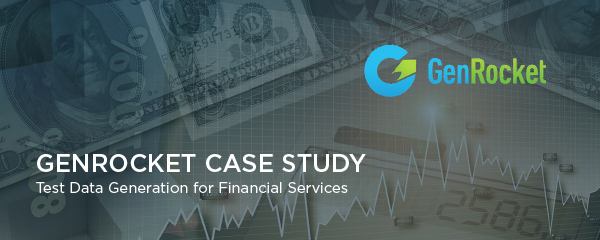 Test Data Generation for Financial Services
A global payment processing company serving small to large-scale businesses was looking for a secure and fully automated test data solution for application testing. The company processes 79 billion transactions annually for ecommerce and point-of-sale environments in 118 countries.
The QA team was looking to replace an inefficient process for test data provisioning with a highly secure, fully automated process. Using GenRocket's Test Data Generation platform, this financial services company was able to meet all of their test data challenges and realized the following important benefits:
Reduced a six-hour data generation process to a few seconds.
Move from a manual process to an automated "zero touch" process
Ensure that all test cases and data formats are fully supported
Maintain total security for compliance with data privacy regulations (GDPR)