GenRocket: The Best Synthetic Data Platform for Healthcare
by admin on Mar 22, 2023
The Test Data Digest is a summary of information, ideas, and announcements published to the GenRocket community during the quarter. We encourage you to share it with your peers and share your feedback with us.
Companies worldwide rely upon GenRocket synthetic test data for accurate and timely testing. In some industries, such as healthcare, where software failure isn't an option, having reliable test data in the volume, variety, and format required is an absolute necessity. From testing health insurance platforms to the future of the Internet of Medical Things (IoMT), GenRocket is prepared to provide data to critical healthcare systems.
Secure Cloud Transformation in Healthcare
The meaningful use of electronic health records (EHR) has been at the forefront of the healthcare IT conversation since the 2014 American Recovery and Reinvestment Act. As of 2019, the CDC reports that 89.9% of healthcare practices such as physicians' offices are actively using at least some or all of an EHR management system.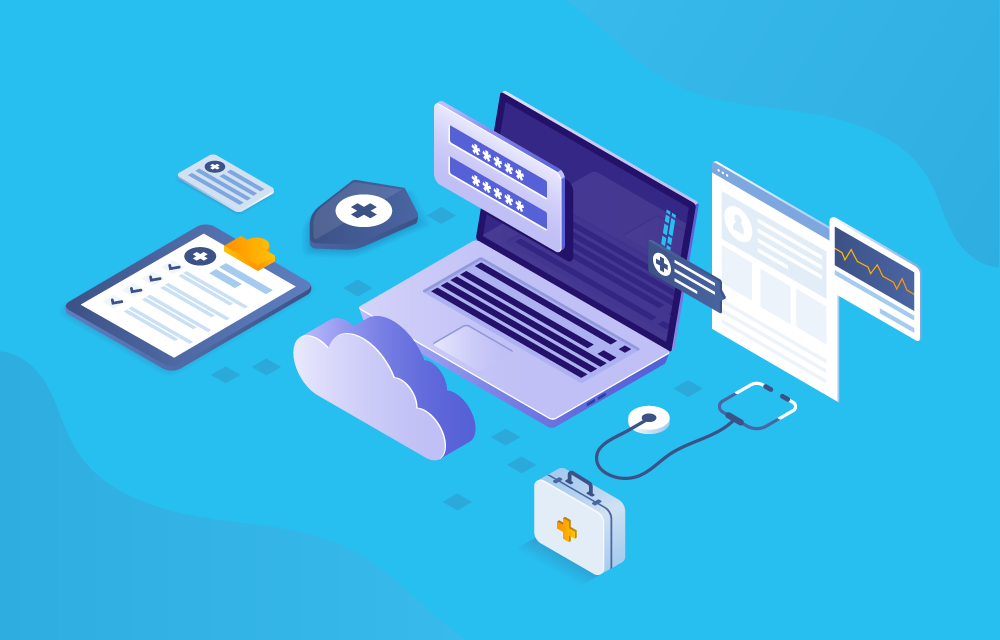 To make electronic health records easily shared and accessed, the industry relies on cloud computing – the interoperability of remote network servers to process, store, and retrieve vast amounts of data. Such systems communicate via the internet, and therein lies the challenge for every entity touching the EHR records chain: how can systems and platforms be thoroughly tested using accurate data without compromising personal health information?

X12 EDI Test Data Automation
The use of real-time synthetic test data in conjunction with queried production data can maximize test coverage at each stage of software integration – unit, integration, and system testing. GenRocket has developed a comprehensive EDI Test Data Automation solution that makes the process easy and automated.
Here, we provide an in-depth look at X12 EDI Test Data automation using GenRocket.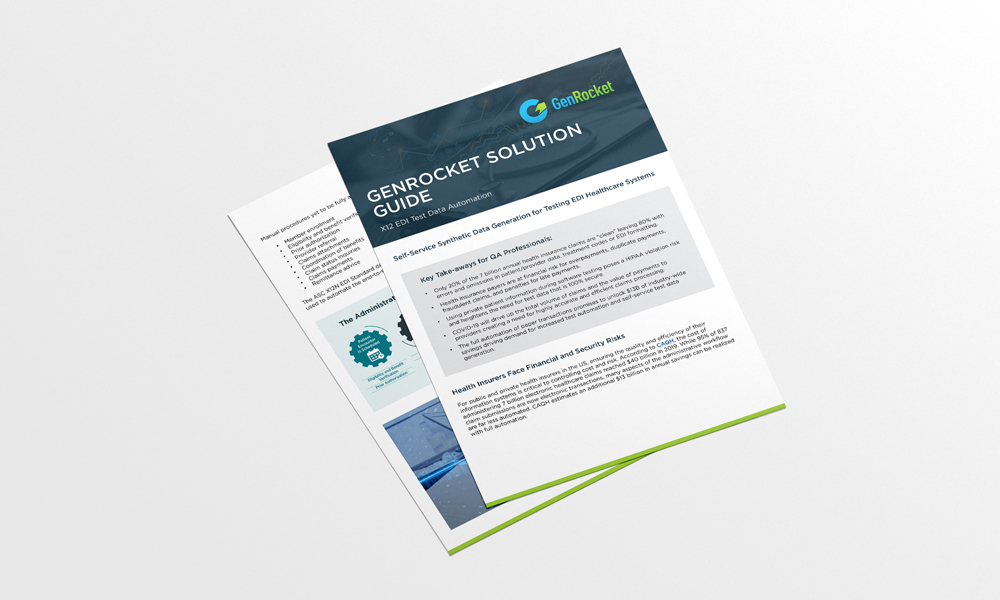 Case Study: Largest Private Health Insurance Company Trusts GenRocket for Testing
Health insurance systems testing poses unique challenges. Yet without accurate systems, insurers run the risk of overcharges and revenue leakage for health payers and delayed payments to providers. In fact, the health insurance industry estimated that up to 80% of submitted claims having errors resulting from human error or deliberate fraud.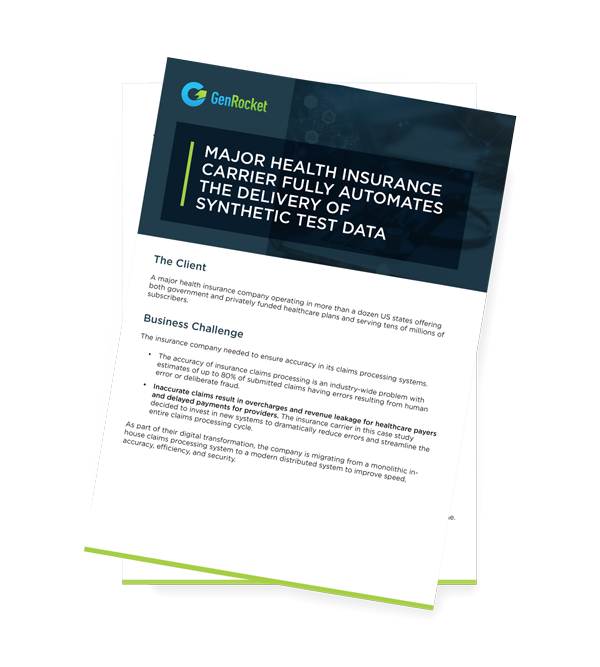 When one of the United States' largest private health insurance companies began their digital transformation, the company began migrating from a monolithic in-house claims processing system to a modern, distributed system. The goal was to improve speed, accuracy, efficiency, and security.
The company decided to undertake a major in-house software development effort to achieve all these goals with advanced development tools, a fully automated software test environment and GenRocket's Synthetic Test Data Automation platform.