GenRocket Enterprise Scalability: Synthetic Test Data Automation on a Scale Never Seen Before
by admin on Sep 07, 2022
If you've followed GenRocket's progress over the years, you've noticed a recurring theme: we never settle for the status quo. This includes shattering preconceived notions about how Test Data Management should happen in a large organization.
Instead, we've built a platform that serves the needs of test engineers, testers, and developers in ways that they need – fast access to test data that fully covers any test case requirement with controlled, accurate and 100% secure synthetic data. In the process, we are redefining the legacy TDM paradigm and evolving it to become Synthetic Test Data Automation (TDA) .
Our component-based architecture offers speed, versatility, and the largest library of Data Generators (700+) and Output Formats (~100) in the industry, through a secure hybrid cloud hosted environment.
Today, we're launching something new and exciting: GenRocket Enterprise Scalability.
The quick overview: No matter where your developers or testers are located, they can access and execute Test Data Cases with direct integration into their automated release pipeline.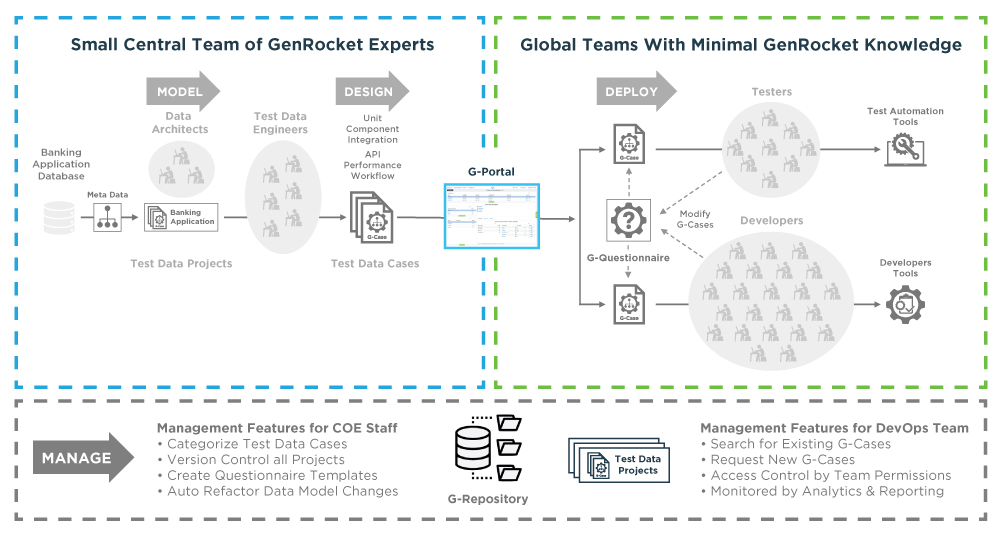 Our expanded architecture allows any organization to create a Synthetic Test Data Center of Excellence, a small group of test data engineers who are the in-house GenRocket experts. This CoE team of synthetic test data engineers models Test Data Projects and designs Test Data Cases (G-Cases). These test data engineers also respond to test data requests, and organize and categorize a rich repository of test data made available through a new self service portal called G-Portal. Testers and developers located anywhere in the world can quickly search for and find test data for any volume, variety and data format in minutes and generate the synthetic data they need for their test case in seconds.
You can make a good thing better. Learn more about GenRocket Enterprise Scalability by downloading our brochure or visiting our newly updated GenRocket website.