Sharing the Value of Synthetic Test Data Automation
by admin on Feb 02, 2022
We've received many requests for a one-page summary of GenRocket and the power of synthetic test data automation. So, we created this quick reference guide to capture the essential elements of the GenRocket story – the company, our advanced technology, typical use cases, key features, and proven customer benefits. Use this Quick Reference Guide to share the value of synthetic test data automation with peers, associates, and executive management.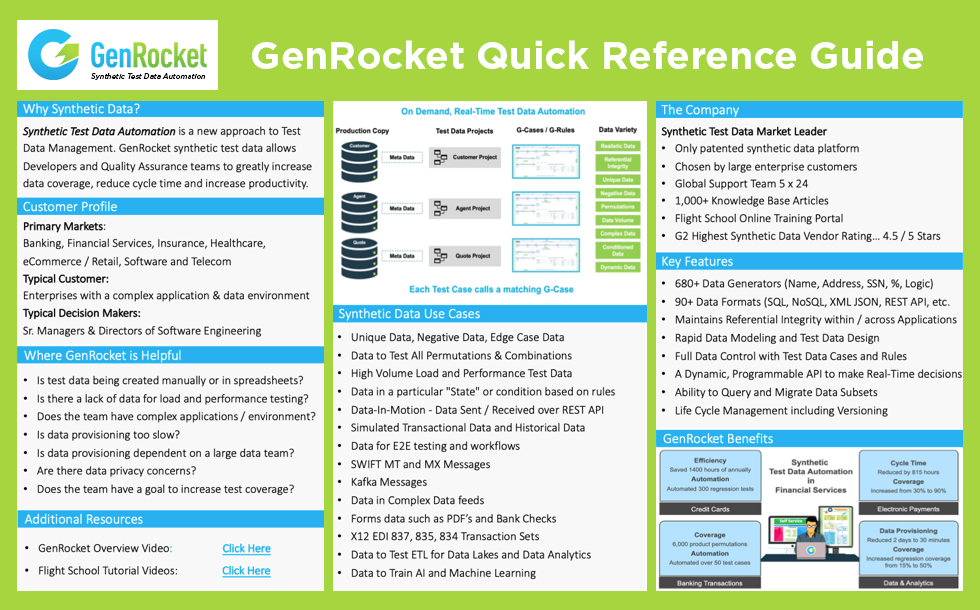 We also included links to a couple of valuable resources you can launch right from the Quick Reference Guide. The first link will take you to a new GenRocket Overview Video recorded by CEO Garth Rose. In it, Garth presents an executive overview of the company and its advanced technology. There is a quick 2-minute demonstration to see the GenRocket platform in action.
The second video is a link to our constantly expanding Flight School on-demand learning environment. If you haven't visited Flight School lately, you'll be surprised by the depth of rich media content we've added. Newcomers may want to start with the "Why Synthetic Data" video tutorial as a helpful introduction to the value of synthetic data for Agile/DevOps testing.