GenRocket Platform
Our web application and real-time engine enable teams to automate white box test creation and generate, realistic, random, patterned, and conditioned test data.
Automated White Box Testing Features
GenRocket accelerates the process of generating test data, writes the code needed to insert the test data into the database with parent-child relationships, and also writes the CRUD and constraint source code for the white box tests.
Easily import and update your data model
Easily import your data model to the GenRocket Web Application
Supports data models of any level of complexity
Easily update your data model in GenRocket as your data model changes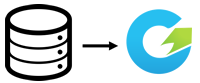 Instantly generate test data for white box tests
No need to prune your production database or create your own test data by hand
Preserves the complex parent-child relationships of your data model

Instantly load test data with parent-child relationships
GenRocket creates test data in real-time for effective white box testing.
Ensures the proper loading and managing of test data with full referential

Auto generate CRUD and constraint tests for white box testing
Generates test code for CRUD and Constraint testing based on your data model

Use any Model View Controller framework
Any application framework that leverages the MVC framework can easily use GenRocket
GenRocketFrameworks currently supported:
Framework support is easily added — request your framework today.