GenRocket Welcomes Karthik Loganathan, Chief Customer Officer to the Executive Team
by admin on Nov 02, 2022
Please join the GenRocket team in extending a warm welcome to Karthik Loganathan who has joined the GenRocket executive team as the Chief Customer Officer.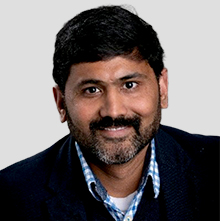 Prior to joining GenRocket, Karthik served as the Director of Enterprise Software Quality Management for Discover Financial Services. He joined Discover in 2000 and served in a succession of increasingly responsible positions related to infrastructure engineering, application development, and product engineering over his career with the financial services company.
But it was his many years leading Discover Financial Services' software quality management where Karthik led testing, testing services, testing automation and testing tools including test data management, that made him an ideal fit for this role with GenRocket.
In this new role, he'll be responsible for ensuring optimal customer satisfaction and success with GenRocket's synthetic data platform. Adding a service-focused leader like Karthik to our executive team underscores our commitment to exceptional service and helps ensure we continue our growth trajectory. We know Karthik will bring fresh ideas and inspired leadership to the GenRocket team.
Welcome to the GenRocket team, Karthik!